Mortgage Vintage, Inc. is a direct hard money lender that originates and funds busines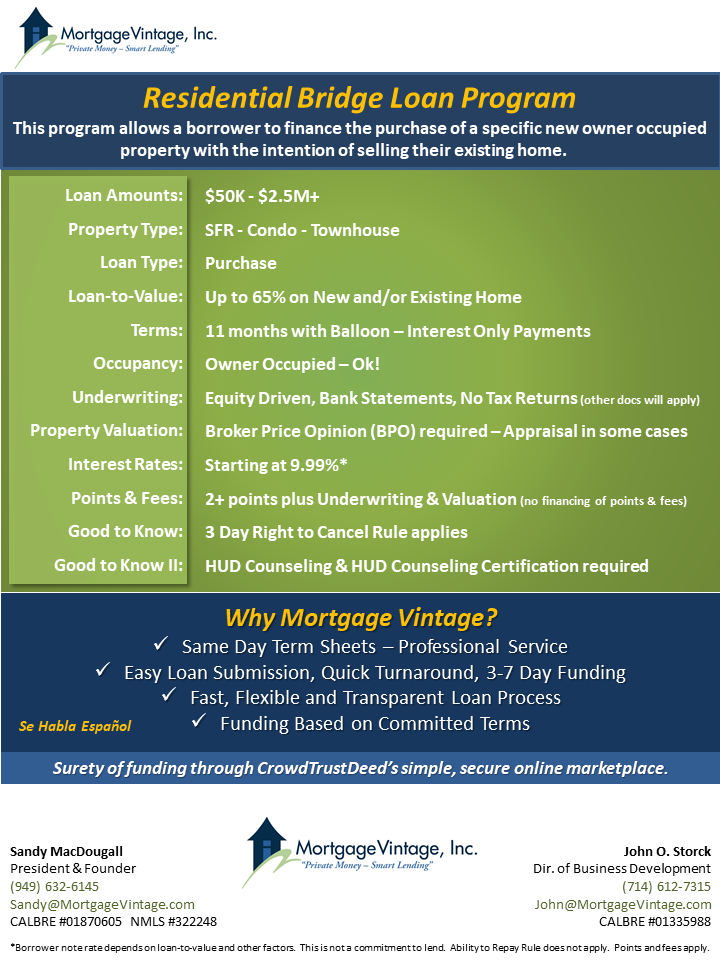 s purpose loans for real estate investors and business owners.  All Mortgage Vintage loans must be secured by California real estate.
Residential Bridge Loan Program:
This loan program allows a borrower to finance the purchase of a specific new owner occupied property with the intention of selling their existing home within 12 months.
Lending Criteria:
Loan Sizes from $50K – $2.5M+
1st Trust Deeds Only
Under 12 month loan term – interest only payments
Single Family and 1-4 Unit Multi-family Properties
Max 65% LTV on new or existing owner occupied property
Rates from 9.99%
3 Day Right to Cancel Rule applies
No financing of points and fees
HUD Counseling and HUD Counseling Certification required
Broker Price Opinion (BPO) required
Why Mortgage Vintage, Inc.?
Same Day Term Sheets – Professional Service
Easy Loan Submission, Quick Turnaround, 3-7 Day Funding
Fast, Flexible and Transparent Loan Process
Over 30 years Financial Industry Experience
Funding Based on Committed Terms
Surety of funding through CrowdTrustDeed's simple and secure online marketplace
Se Habla Español
---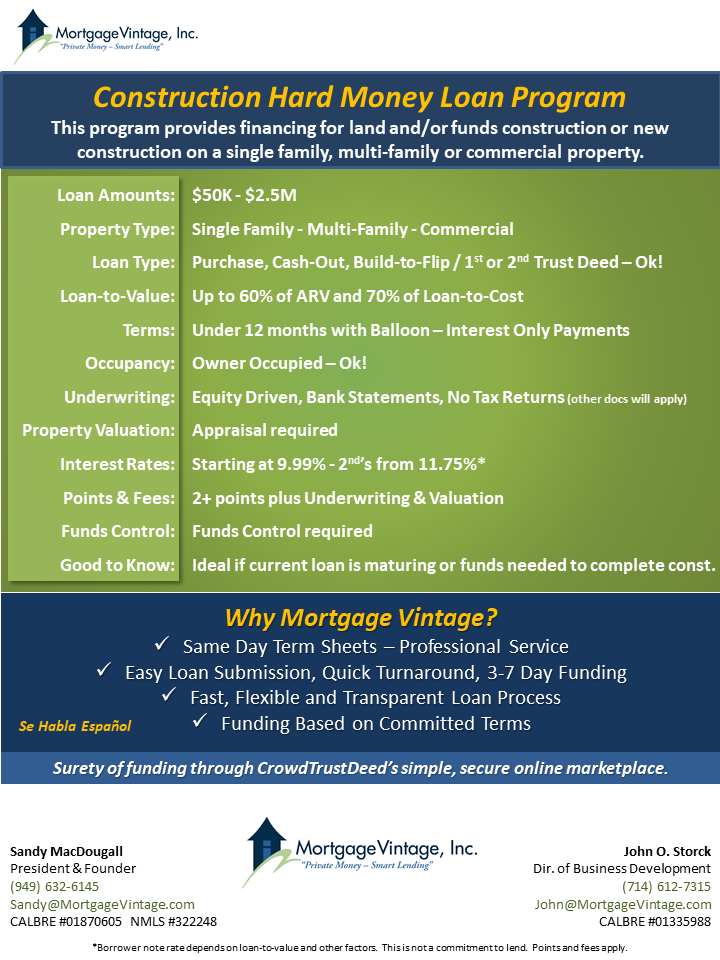 Construction Bridge Loans:
This loan program provides funds to finish construction on a single family, multi-family or commercial property.
Lending Criteria & Scenarios:
We will lend up to 70% LTV of the combined cost of the land and construction, not to exceed 60% ARV.  Funds Control required on construction funds.
If borrower owns the land, we will lend up to 25% of the land value and 70% of the construction cost, not to exceed 60% ARV.  Funds Control required on construction funds.
If a current conventional loan is maturing
The project needs additional funds to complete
Loan amounts from $50k – $2.5M+
Max 65% on new and/or existing home
Short-Term Bridge (12 months or less, Interest only)
Rates from 9.99% – 2nd's from 11.75%
Why Mortgage Vintage?
Same Day Term Sheets – Professional Service
Easy Loan Submission, Quick Turnaround, 3-7 Day Funding
Fast, Flexible and Transparent Loan Process
Over 30 years Financial Industry Experience
Funding Based on Committed Terms
Surety of funding through CrowdTrustDeed's simple and secure online marketplace
Se Habla Español
Contact:
Sandy MacDougall – (949) 632-6145 – sandy@mortgagevintage.com