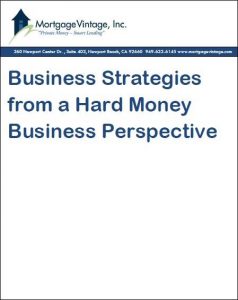 As an extensive review of Business Strategies from a Hard Money Perspective this publication provides an excellent overview of the key details and tips that you will want to know.
Learn more about Mortgage Vintage…
Call today: 949.632.6145
Mortgage Vintage's private money/hard money loan programs are designed for California real estate investor professionals. Our reliable hard money loan programs make the process of investment funding fast and easy.  We work with investors buying REOs, short sales, real estate auctions, trustee sales, trustee sale refinances, private party, and even construction properties.