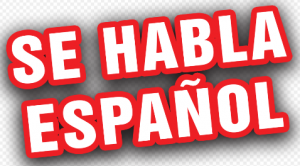 When I left to go work for CB Comercial de Mexico in Mexico City in the 90's, I had no idea that Spanish would be invaluable as a hard money lender.  Like most other kids, I learned Spanish in school but my real learning and understanding of Spanish and the Hispanic culture came from my immersion into the Capital City of Mexico.  I read the local "Reforma" newspaper, listened to Spanish Radio, spoke Spanish at work and enjoyed all the culture of places like Acapulco, Mazatlan, Cuernavaca and Valle De Bravo.
I understand the difficulties of learning a 2nd language so when I can, I speak in Spanish to our Hispanic borrowers.  Speaking in someone's native tongue allows me to really comprehend the loan situation and the goals and desires of the borrower.
Hard money loans and Hispanic borrowers are a great fit.  Many Hispanic borrowers did not grow up in a culture of "Credit" and hence have not established strong Credit histories and scores.  Additionally, hard working Hispanic borrowers are in many cases Self Employed and do not necessarily document all their income on Tax Returns.   We have learned that Hispanic borrowers are excellent borrowers.  They typically improve and maintain the properties while paying the mortgage on time.  Below are 3 examples of recent private money real estate loans for Hispanic Borrowers and their success stories:
Hispanic Hard Money Loan Examples:
Juan owns his own Construction Company and initially purchased and upgraded this 2 story 2,291 s.f. home using a Hard Money Loan.  He subsequently pulled cash out of this rented property to pay off a high interest rate loan on one of his other properties.
Neddy knew that this was on opportunity of a lifetime.  Neddy and her family were leasing this building for their famous "El Caporal" restaurant.  Best Tacos Ever by the way.  If you ever go to the Rose Bowl, please stop by and you won't be disappointed.  The owner of the building was retiring and moving to Las Vegas so Neddy had to act quickly.  She used a Hard Money Loan to purchase the building and has subsequently refinanced into a lower rate.  Her family business is thriving, and they are saving money for their Children's education.
Sal owns a number of multi-family rental properties in Santa Ana.  He found this opportunity to purchase a property from HUD at below a below market rate.  He needed to move quickly as he was competing against many all cash offers and needed to close quickly.  Sal used proceeds from a cash-out on one of his other properties to fund the down payment and a new loan on this SFR to quickly close on this purchase.  Now Sal is in a great position to earn a nice profit on his fix and flip.
Should you need someone to speak in Spanish about your loan scenario or real estate investments, please contact us at 949-632-6145 or visit our website at MortgageVintage.com or CrowdTrustDeed.com today.   We offer hard money loans for resident aliens and green card holders.  Se Habla Español!